Accommodation Features・Facility
Accommodation Features・Facility

Map of the facility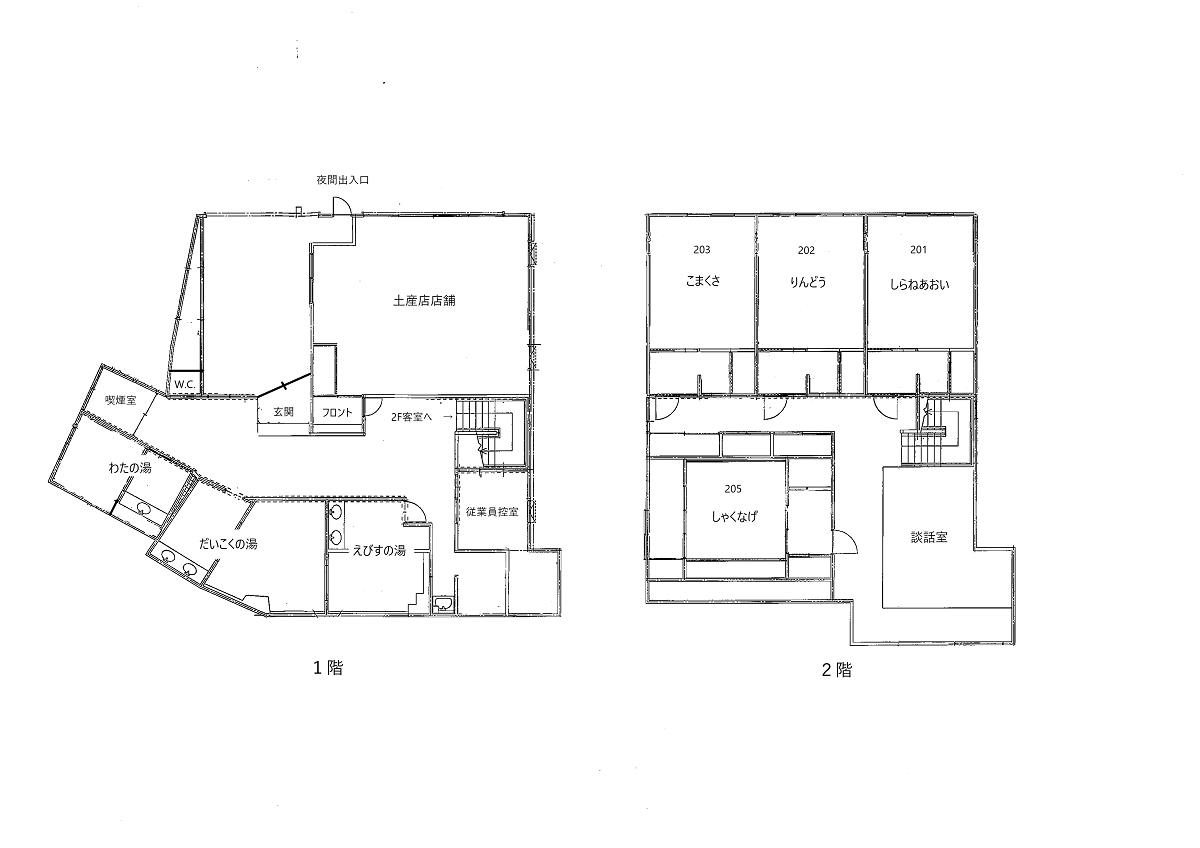 Front desk & lobby

It is the face of this facility that welcomes customers

lounge

A light breakfast service is available here

Smoking Room

There is a smoking area on the 1st floor.
Smoking is prohibited except in this area.
Number of rooms

4 rooms: Western-style room 3 rooms / Japanese-style room 1 room
Western room translation: 3 twin rooms (-)

Room supplement

There is no bath in the room

Standard room facilities

Shower toilets in all rooms / All rooms with air conditioning / TV / Empty refrigerator

Guest Room Equipment・Supplies

Shirane Aoi, Rindo, Komakusa: Air Conditioner / Floor Heating / Japanese Paper Tatami / Simmons Bed(Single)× 2 / Washbasin / Refrigerator / TV / Desk / Chair / Closet / Toilet with washing machine / Wi-Fi / Tea set / Safety box
Shakunage: Air conditioner / hot water fan heater / main tatami, Yukimi shoji / Washstand / Refrigerator / TV / Toilet with washing machine / Wi-Fi / Closet / Tea set / Safety deposit box

Internet related

All rooms
[Connection method]Wireless LAN
[PC rental]No
[Internet connection]Free
Wi-Fi available

Amenities

Face towel / bath towel / yukata / toothbrush / cotton set / comb / shaving / bathing socks socks

Facility contents

No-smoking room

Credit cards that can be used locally

JCB / Visa / Master/AMEX / Diners

Check In

From 15:00
*Please contact us in advance if you check in after 18:00.
(0279-88-2217)

Check Out

~ 10: 00

Capacity

Shirane Aoi, Rindo, Komakusa, Shakunage: 2 people

Size

Shirane Aoi: 21.76㎡ / Rindo: 20.86㎡ / Komakusa: 24.47㎡ / Shakunage: 30.03㎡

Note

All rooms are on the 2nd floor
Please understand that there is no elevator.
!! Women can choose the pattern of the yukata!

Cancellation provisions

5 to 3 days before: 20% of room rate
2 days prior: 30% of room rate
1 days prior: 50% of room rate
On the day of arrival: 100% of room rate
Cancellation without any contact: 100% of room rate
*If there is a cancellation provision for each accommodation plan, it will take precedence.